Products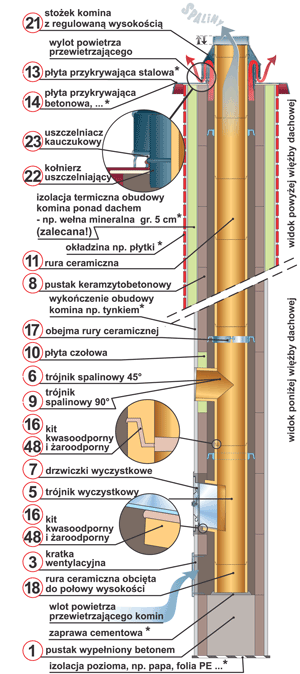 Economical chimney for solid-fuel furnaces: wood, briquette-, coal-burning ones, etc.
Attention! For this chimney, coal fines must not be used. The Brata Standard chimney can only be used indoors. Its outdoor installation is permitted only under the condition of its thermal insulation.
Its multi-layer stack structure ensures its overall integrity and lack of stresses which guarantees long-term and safe operation. The use of the highest quality heat resisting fireclay pipes for the chimney guarantees the integrity even under soot-fire conditions (fire resistance of a minimum of 60 minutes). In addition, chamotte pipes are fully resistant to acids found in the smoke.
When connecting a BRATA STANDARD chimney to a chimney, it is recommended to use a tee-pipe of the inclination of 45%.
BRATA STANDARD chimney is designed for flue gas temperatures within the range 200° - 600°C.